"Vetiver blinds, that lend
To burning summer noons
The scented chill
Of winter nights."

– Bihari (1595-1664)
Ruh Khus attar is produced through the distillation of the root part of the plant (vetiver grass). The roots of vetiver being a plant possess one of the most exotic aromas imaginable; a unique earthy fragrance which has captured the imagination of people for centuries.
The oil of Khus/Vetiver is also referred as "Oil of Tranquillity" in India and one of the favorite ancient attars from the centuries. In some countries Ruh khus is also known as "Green Vetiver".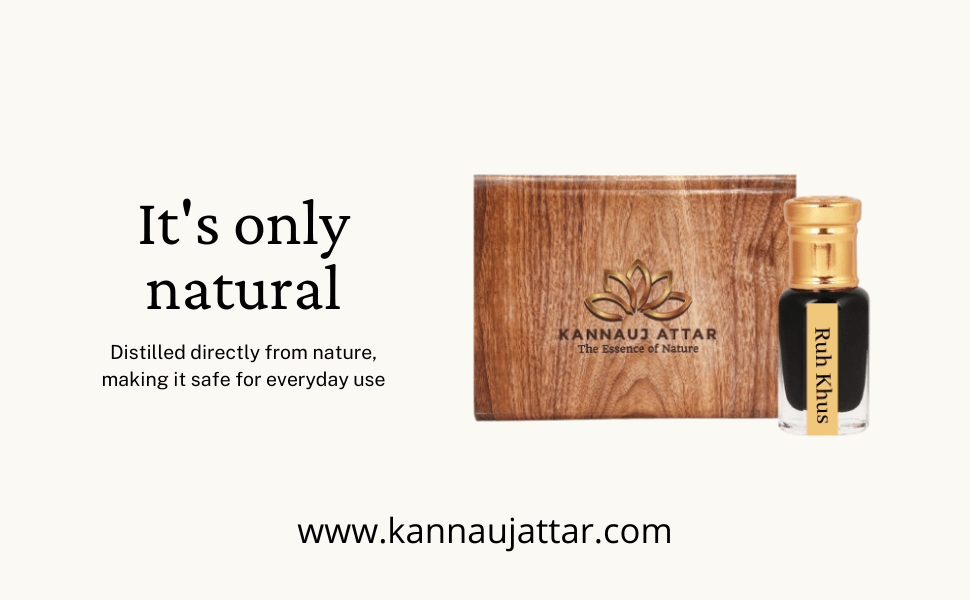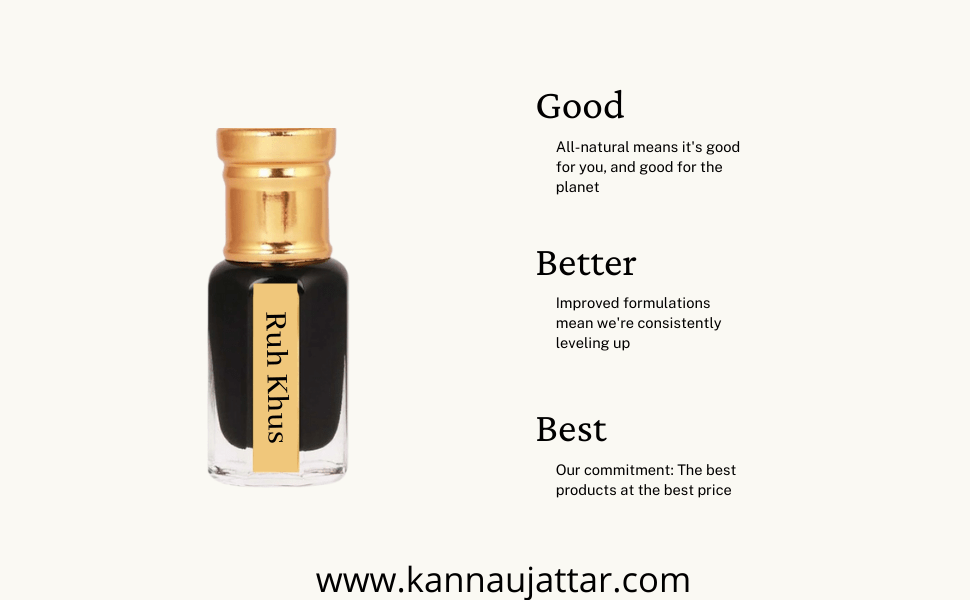 What are Key Features of Ruh Khus or Vetiver Essential Oil?
Composition: absolute,100% Pure Ruh Khus Essential Oil
Origin: Kannauj (Uttar Pradesh), India
Method of Extraction:  hydro distillation of north Indian khus roots, using traditional deg-bhapka method
Cultivation/Harvesting: Wild-harvested
Plant Part: roots
Color: green, amber (dark)
Consistency: highly viscous
Yield: 0.3% – 2%
Frequently Asked Questions about Khus Ruh Attar
Are there any safety considerations for Ruh khus attar/Vetiver essential oil?"
Generally, natural rooh khus attar or traditionally distilled vetiver oil is considered completely safe for external use in any season and for people of all age group. However, during the time of pregnancy, it is recommended to use with caution or check with your health consultant, specially in the case of wild vetiverr.
How does Ruh Khus smell like?
The immediate and initial impression of Ruh khus essential oil is one of the powerful earthy diffuseness. The aroma of Ruh khus comprise quiet sweetness which somehow perfectly interweaves amongst its more earthy tones.
Which is better – Wild vetiver or Cultivated?
Wild Vetiver is considered better as it has more deep and rich aroma.
Buyer Tip:
If you're buying Ruh hus as attar perfume, always prefer the traditionally distilled rooh khus. Some suppliers sell steam distilled khus as attar which is low quality and approx 30% less costly. They sometimes may even add colours to it to make it look like traditionally distilled/Desi Ruh Khus.