WE SELL ONLY THROUGH OUR OFFICIAL KANNAUJATTAR.COM WEBSITE. 
kANNAUJ Attar: THE ETERNAL ESSENCE OF  OF INDIA
Kannauj is preserving long fragrant tradition of creating natural perfumes from botanic sources.


Attars for Gifting
Gift perfume with blissful accents of extravagant fragrances. Explore the range of premium gifting natural attars for all occasions.
Shop now
Premium Gifting - Handpicked Attar GIFT SET
Show All
Premium Long Lasting Attars in Budget
Show All
Therapeutic Grade Essential Oils
Show All

Knowledge Centre - Perfumery & Aromatherapy
Browse all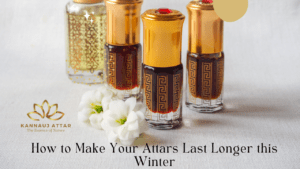 Natural attars offers lingering experience as they smell like freshly snipped flower stems. Kannauj Attar as [...]
FAQ
Frequently Asked Questions Related toKannauj Attar™ Products
I have a sensitive skin. Is it safe to apply Kannauj Attar™ perfumes?
We at Kannauj Attar are trusted for the quality that we offer. Our Attars are either obtained using traditional technique (Deg & Bhapka) or obtained by blending ingredients derived from traditional technique. These attars/compositions are considered safe for topical application, however, some skin types may be sensitive to certain ingredients (even the natural ingredients), thus we recommend to take a patch test if you have a sensitive skin type.
Why Kannauj Attar™ perfumes are comparatively costlier than other sellers?
Our traditional attars are costly as they are natural and traditionally distilled. These are true attars that are obtained after a labour intense attar making process of 60 days. If you get these traditional attars at lower price, there are high chances that quality is compromised/adulterated. Some sellers/websites may even offer adulterated attars at slightly lower price to stay price competitive.
About Kannauj Attar: Buy Natural Attars from Kannauj Online
KannaujAttar.com is renowned and India's first natural attars manufacturer & essential oil company. Even today, we've preserved our heritage of making attars using traditional hydro-distillation method.
At the time when market is flooded with synthetic perfumes and low quality attars, We at Kannauj Attar still stand by authenticity of true attars and are striving to make these beautiful attars accessible globally. Being recognized as top perfumer exporter business, Kannauj Attar has earned the reputation of most trusted and respect supplier of natural attars, perfume oils and wild-harvested essential oils.
The practice of extracting natural perfume oils or attars from flowers, herbs and spices in India is more than 5000 years old. A lot have changed today (Almost everything), but you can still witness traditional attar making in Kannauj, the perfume capital of India.
Additionally, since natural attars are pure and chemical free and they are derived from botanical sources, attar also have healing properties. So, start exploring our range of natural attar perfumes that additionally offer you a healing touch.